AskNature
PRODUCT MANAGEMENT
UX DESIGN
UI DESIGN
USER RESEARCH
FULL STACK DEVELOPMENT
INFORMATION ARCHITECTURE
BRAND STRATEGY
CONTENT STRATEGY
︎ VISIT PRODUCTION SITE
Towards a goal of making asking nature's advice a normal part of everyday inventing ...

What does it mean to bridge domains? To meaningfully influence how innovators scope and solve problems? To creatively stretch limited resources while nurturing and building excitement around a moonshot vision?

AskNature.org
exists to help product, service, and system innovators be inspired and informed by the amazing forms, processes, and systems that living systems have evolved over billions of years to adapt and thrive in their environments. Over six years as director of this non-profit program, I have worn a myriad of hats conducting activities that have revolved around a goal to grow this popular prototype into a world-class service that supports our vision of a world in which asking nature's advice is a normal part of everyday inventing. This free service currently reaches an
international audience of over 70,000 users per month
, is utilized in hundreds of high school and university courses, and is
featured in the Circular Design Guide
, published by IDEO and the Ellen Macarthur Foundation.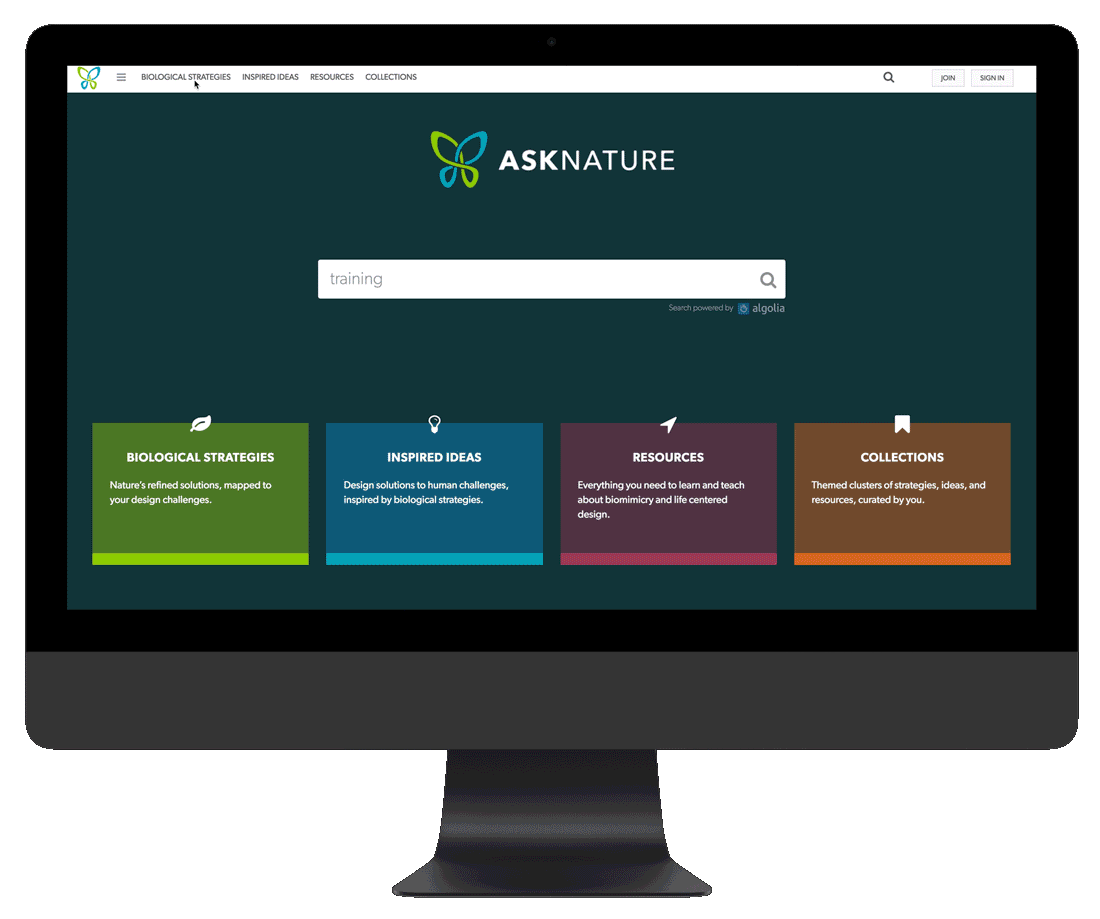 This digital publication and community platform was initially launched in 2008 with financial and in-kind support from folks at Autodesk, IDEO, Rocky Mountain Institute, and UNEP, amongst others. The offering proved popular, particularly amongst designers, architects, sustainability consultants, and educators. By the time I was invited to join the project in 2012, the initial software stack and many aspects of the program's strategy, which had remained largely dormant since the site's launch, were primed for some focused attention.

Over my next seven years in this role, I grew and collaboratively led a small cross-functional team to tackle a breadth of opportunities and challenges tied to vision, funding and partnerships, operations, content and editorial strategy, marketing and social strategy, all things product management, and full-stack web development.


Our last major rebuild of the site in 2016 introduced an entirely new responsive interface, tight integration with several external APIs for search and content augmentation, new ways for users to share ideas, and intuitive front-end tools for editing content in real-time and managing the editorial workflow. Continuous updates since then have gradually added and refined features in response to user feedback, analytics, and multivariate testing. I have acted as lead researcher, designer, and developer for all aspects of this iteration of the site.
Tools: Wordpress, ACF, Algolia, HTML, CSS, PHP, JS, JQuery, MySQL, AWS, Cloudflare
The current production version of the site has represented just one thread amongst a long yarn of architectures and interfaces that have been imagined, proposed, and occasionally prototyped over the course of my tenure. At various points in time, we've been fortunate to share our journey with teams at places like MIT Media Lab, IBM Watson Research, Georgia Tech, and IDEO, to name a few.
Deliverables: Wireframes, Mockups, Interactive Prototypes, User Flows, I
UX tools: Illustrator, XP, Axure, Sketch, InVision, Keynote
Proof-of-concept tools: Node/React, Neo4j, OrientDB, MongoDB, AirTable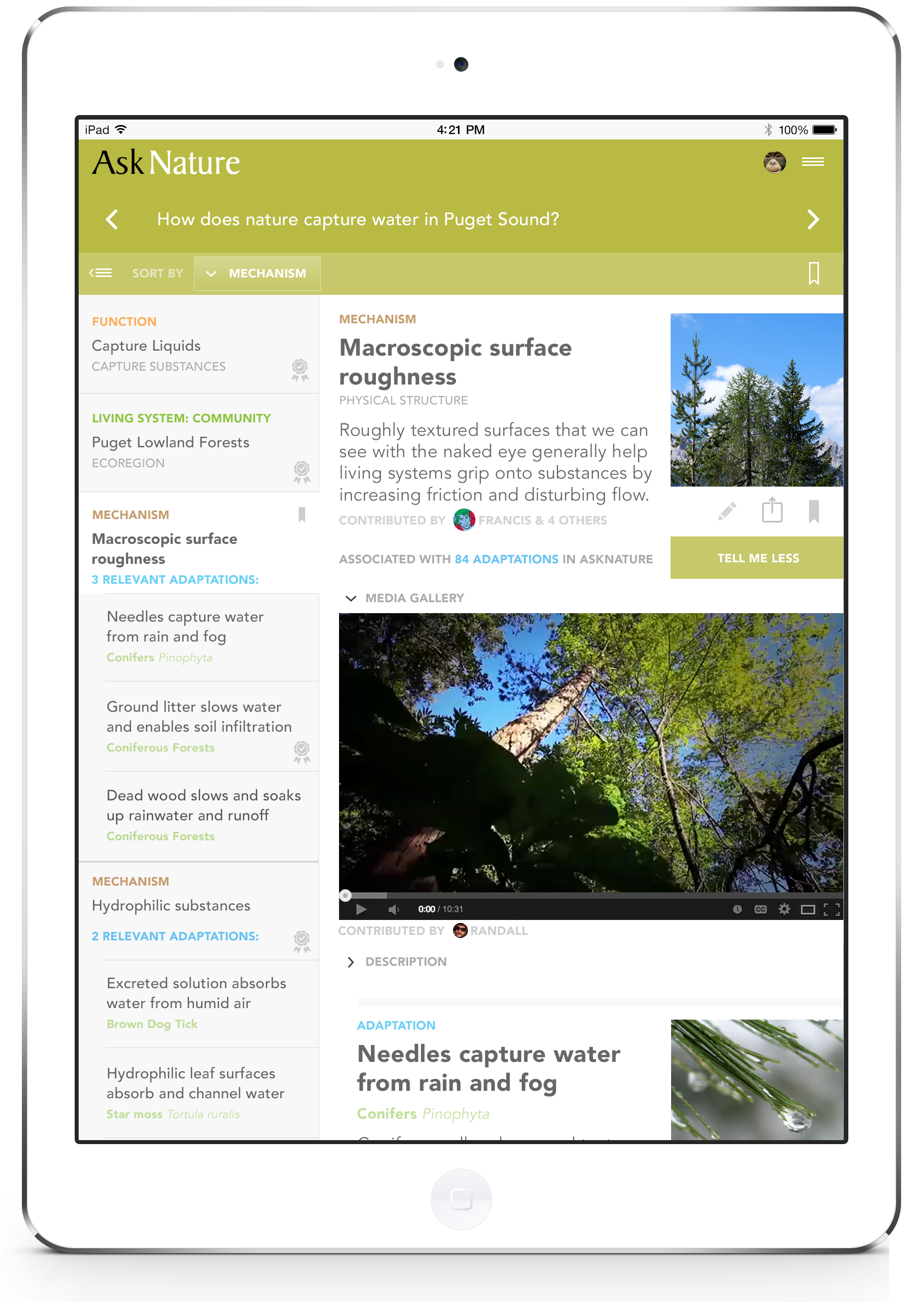 Research & Analysis
As much as possible, this work has been founded on anecdotal and analytical findings from ongoing user research activities. In 2017-18 we re-focused our key performance indicators on reach, adoption, and positive educational outcomes, and are endeavoring to measure all of our outputs against these outcome-oriented KPIs.Tools: Variety of user research and value proposition design techniques, Google Marketing Platform (Tag Manager, Analytics, Optimize, Data Studio), Heap Analytics, Typeform, AirTable, Data Analysis in R and Python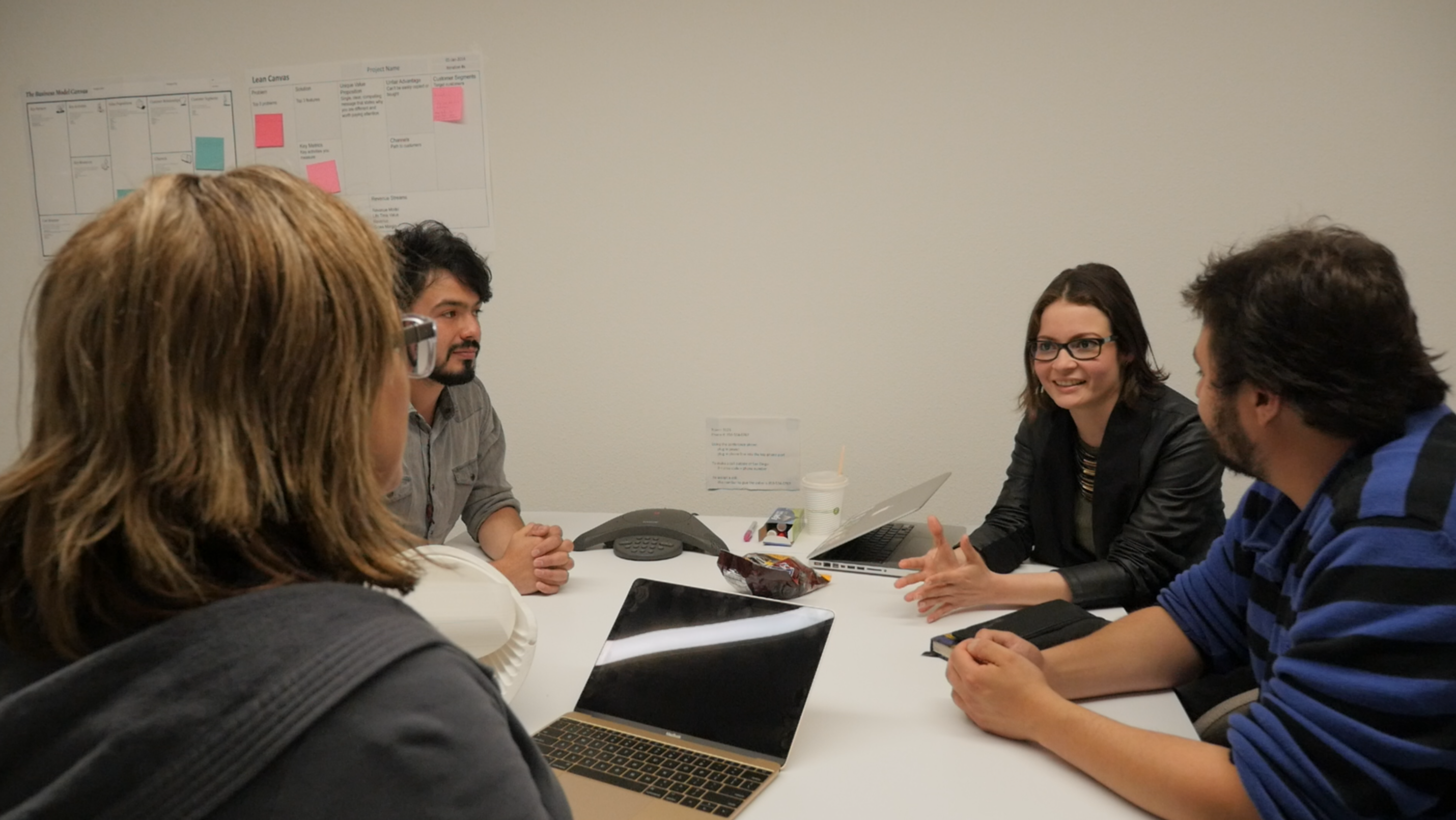 Data Architecture
AskNature's legacy data architecture involved a unique approach to approximating a graph within the context of a MySQL database. After gaining a comprehensive understanding of this architecture, we've successfully migrated this data to equivalent and/or improved architectures using Neo4j, OrientDB, MongoDB, and (for the current production version)Wordpress / ACF / MySQL.
Brand
Mobile interfaces beg for icon-friendly logo options, and we were never quite satisfied with our efforts to adapt AskNature's legacy textmark to this 1:1 proportion. Plus in 2015, the Biomimicry Institute (the organization that AskNature is a program of) adopted new brand guidelines which included a color palette that clashed with AskNature's legacy specs. So with the 2016 re-launch of AskNature.org, we also launched a new programatic brand package that I designed, tested, and refined as a pro-bono side project.
Tools: Illustrator
Project Management
Our team has gone through several iterations over the time I've been leading this program, and at various points in time I have acted as project manager, agile product owner, and agile scrum master, in addition to managing the product roadmap. Over the past few years I've helped our whole organization shift project management to Asana.
Tools: Agile (various flavors), Github, Jenkins, Asana, Slack, G Suite, Lean, Airtable







Although we generally hire external filmmakers for our narrative video needs, I've assembled several videos for internal and external use, including this introduction to the relaunched site, first shared during a presentation at

DIF

2016.

Tools: Audition, Premier, Final Cut Pro





.